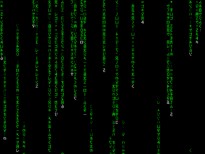 This is the latest version of the Matrix Screensaver emulating the introduction to the movie and the code. Created because of the offical screensaver is completely awful. Ten years old and still the best... in fact, now even better!

No spyware, no adware, no nagware, no ever-expanding bloat of pointless 'features', just pure, simple, and elegant as always.

The screen saver supports multiple monitors, so this time the Matrix really will have you...

Click image for larger view
Click here for release notes

If you like the screensaver and feel so inclined, please donate


Some people have reported problems with version 1.14 on Windows 7. I am currently investigating, but please use version 1.11b for the time being. Thank you.